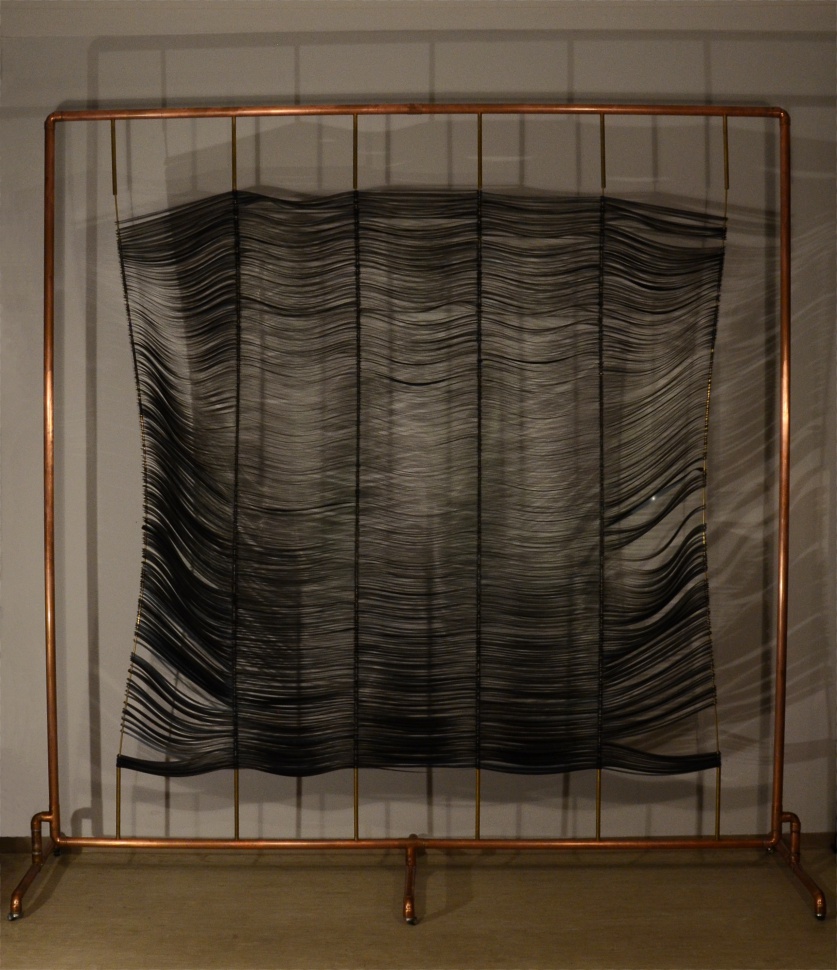 X-ray pics, cut and riveted, brass, copper tubes, wheels, 2,20 m x 2,20 m x 0,60 m
Eva Brenner & klangMANUfaktur
Introductory speech
by Dr. Sabine Richter on the occasion of the premiere of "Coco Corona Chanel N°5"
on 01.04.2022 at the opening of the pop-up gallery … and art.

With the title of the performance, Eva Brenner alludes to the time period of its creation and to a fashion label (the fashion designer Coco Chanel was a pioneer of revolutionary women's fashion from 1913 onwards) and - this seems particularly relevant to me - to a fragrance, something fleeting that we remember and recognise but cannot hold on to.
Eva Brenner learned the tailoring trade from scratch and was able to develop her fascination for special fabrics, materials and cuts at the fashion school in Munich and later as a costume designer.
During her studies at the Academy of Fine Arts, first in the textile class and later through her art studies with Otmar Hörl, new facets were added. Although her artistic works have become more conceptual, she is not a conceptual artist, because the intuitive emergence of her works is just as important to her as the formal-aesthetic impression of her creations.
Eva Brenner's multi-layered interests cannot be confined to classical areas such as painting - sculpture - costume. In her works, which she brings to life in stage-like productions, she oscillates between what can be experienced visually and what can be experienced haptically. She combines materials as well as genres and forms of expression: object - colour - sound - movement - haptics – noise into a sensory event.
How can you describe what you experience in the performance?
The focus is on a newly created sculptural work, conceived by Eva Brenner, with which she takes up earlier projects in the truest sense of the word. For one of her latest works, she made torsos from countless X-ray images as if they were tailor-made. In the process, she removed the pieces of foil with the names of the patients. She now uses these as the material for a movable structure for which the somewhat antiquated term "interlaced yarns" seems appropriate. A loose yet clearly structured textile fabric, clamped - or rather anchored - in a navigable frame made of specially treated copper tubes that have been dripped with citric acid over a long period of time and thus are continuously oxidising.
It is the artist's wish not to present these structures in isolation, but to bring them into a new context and set them in motion. In this way, she transforms it into a kind of instrument (Greek organon) by releasing it to be "played on".
She finds congenial partners in the dancer Manu and the musician Alex DocDorsch. The sounds of the idiosyncratic instrument, which - as the instrument maker himself says - requires some taming, set the space vibrating in a special quality, to which Manu reacts with minimal movements and gestures, which in turn play light on the plastic structure.
Linking
Linking and connecting, this ancient textile technique becomes a concept of life for Eva Brenner: she is the composer not only of her sculptural compositions, but also of a kind of orchestration of her work in interaction with the actors through sound, movement and light.
It isn't just her strong capacity for experience - as a music lover and passionate concert-goer of contemporary music – that enables Eva Brenner to do all this, but also because of an open attitude with which she surrenders herself and her work to the events of time. In this way, sculpture becomes eventful like music itself, uniquely different in every moment, immaterial and unrepeatable.
Transformation
What happens now cannot be described, but I would like to draw your attention to an acoustic-visual experience in which hearing and seeing enter into a dialogue and in which a metamorphosis begins, a transformation. This event, which is as opulent as it is reduced, needs no narration. The mirroring and reflections of light on the textile structure correspond with the intervals and sounds of the steel cello and transpose it into a multi-dimensionally readable body.
Eventually, it won't be the same as before. As, afterwards, we ourselves won't be the same as before.
Dr. Sabine Richter
Chair in Visual Arts Education
Faculty of Humanities
FAU Erlangen-Nürnberg
Dutzendteichstr. 24
D-90478 Nürnberg